A stringy organic cellulose-based mixture is becoming, sort of like pulp, it has the consistency of a mixture between a solid and a liquid. This soft pulp is suspended in fluid. A morning condensation, droplets twinkling on a spider's silky web. Even from a distance you can see this cotton substance.
A web suspended on a bed of pink roses. A green clearing, a park in the middle of a forest, the familiar scent of freshly cut grass stops at the edge of the black forest, beyond thick black markings, black scrawling's, so dark it glows from the inside, hidden messages scrawled secretly in broad daylight, snatching weeds and loose screws in broad daylight, small subversive gestures for the liberation of a future self. Small ripples on the surface of the water, strong currents below. A red book is left on the park bench in ode to this liberation, on the inside pages a name in small script, Heidi.
There is a thin fragile border, a skin full of holes between us. Once I was knee deep in mud between these two territories. My legs pierced the surface of the water like two needles. Two pin pricks on the surface of the waters' skin, two pin pricks on the skin of the screen, two pin pricks on the skin of the street. There is a voice emerging from beneath the currents propelling our synchronised movement forward. This invisible current is dislodging long ago buried debris and allowing room for a melodic voice to come through from the deep. It is an old song, about a raven searching for food in the winter time. The raven is calling out to the other ravens to share the little food it has found. As we listen to the song, feathers start to sprout from our forearms and on the underside a new growth of soft green moss. When we speak, only birds can understand our speech, our sentences are a new type of bird song.
What is it about bird songs that signal hope but also a weary caution. These songs appear on the page as curving, waving lines, sometimes as dots, other times like sharp lines. The song-lines of free birds are long and light, the song-lines of caged birds are short, thick and shrill. "Bird Sound Orientations" is the name of a new language system that marks our position in a sonic world with no gravitational centre, filled only with the kinetic laws of bird songs. We take flight, as we leave the ground we notice our skin has overgrown with feathers and thick moss. If you look closely at the moss there is a tiny black forest, one that is populated by writhing small creatures with bellies close to the ground, and many many legs and many eyes.
Whilst wandering, I came upon a small black buckle that looked lonesome and had lost its function. It looked like a writhing snake from a distance. I picked it up and used it as a compass to find my way home. Every morning while I wait for my coffee to brew, my eye meets a blinking star over the trees that dot the mountains surrounding Frieburg. Yesterday I decided to walk towards it. By the time I got outside the sky had changed color from a dark bright blue, to a luminous peach. I walked in the direction of the star, by this time, the star was nowhere in sight. The air was cool and crisp, it had the quality of a very soft cool fur. I walked for awhile in that direction and it became clear that the mountains were further away than I had estimated.
Then I heard the bells from a nearby church and decided to walk towards it. The sound led me back in a circle, back to a familiar road. We followed a line and found ourselves in a cemetery. We sat around a statue of a maiden and made our day's offerings at her feet, the patron saint of walking. We imagined it was Heidi finally, revealing herself to us, finally taking form. Yesterday, we were grounding, rooting, earthing. We had finally become a spider and found ourselves at the center of a web work, which is also in fact a cemetery. La Creatura was stirring in the tunnels and subterranean depths within us. La Creatura had tentacles longer than we had even imagined, and she was making her way slowly through. The nature and the work of a spider sits side by side, and quite comfortably with death.
Death, for a spider is a part of life and not a thing to resist. And here we were in a web surrounded by gravestones and final resting places. Perhaps some art works are meant to be buried, so that they can decompose and provide nourishment for another work to sprout roots and grow out of the ground. Perhaps the purpose of a work is to be a part of the natural cycles of an ecosystem, and exist purely as a sacrifice to be offered to the hunter. The hunter, of course is also the spider.
As we buried the image of a spider in the soil, another spider made her presence known, Louise Bourgeois. Our thoughts turned to the many artists that have made work in secret, perhaps as a quiet subversive act in the time between their morning coffee and their commute to work. Maybe they buried this work in a secret spot in the soil never to be seen or heard by anyone. We are moving through a tunnel, one that may be underground or overground. For five days we have been moving through, our tentacles moving the earth and debris to the side and now we see a faint light at the end of this passageway. From a distance, this light has the colours of fire, a dawn, a day break. It is morning and the light from the sun casts long golden shadows on a red, blue and yellow play-ground. There are two little girls talking seriously about pink chalk markings they drew beneath two swings. In a clearing nearby, there is a fire pit with warm coals still smoking from a recent fire.
What if we thought of the street, the outside as our studio, or our studio as the street. Making our work, and like the spider, spinning our web, in any place or corner. It is morning and our web, our studio is twinkling on the railings of a bridge overlooking a flowing river in Freiburg.
- A Walk Narrative, Freiburg (2021) was woven by Rahima Gambo from conversations, experiences, reflections, synchronicities that she and collaborating artists, Marie Klauder, Maristella Witt, Sarah Lehnerer, Michaela Tröscher and Andrea Mihaljevic had during the course of the five day "A Walk- Nest-works and Wander-lines' workshop that took place at Delphi Space from 06 September 2021 to 10 September 2021 for the Biennale fur Freiburg. The narrative provides the underlying context and storytelling for how the art-works in the installation relate to each other to form a whole. Installation images below by Marc Doradzillo.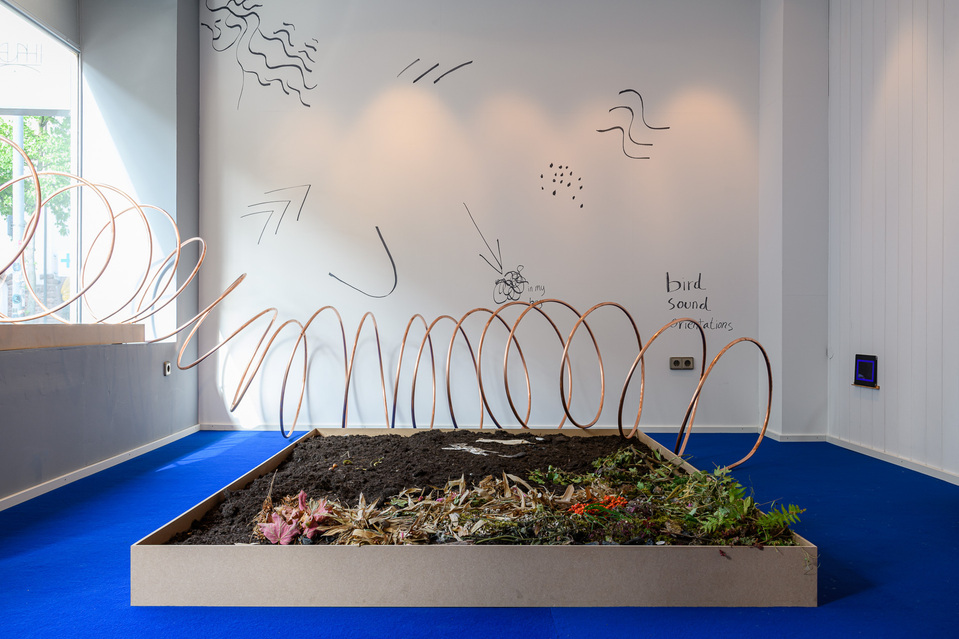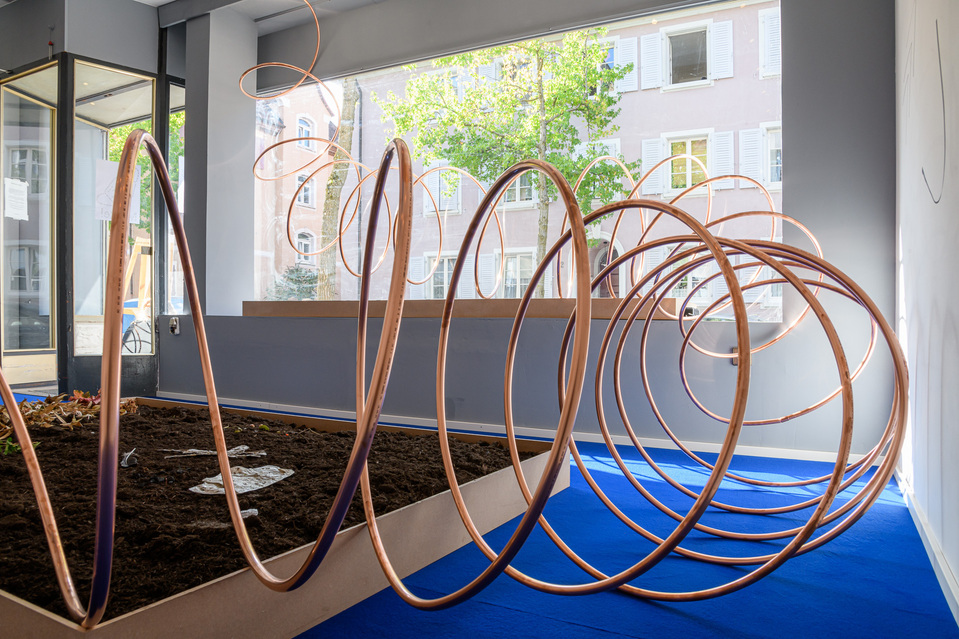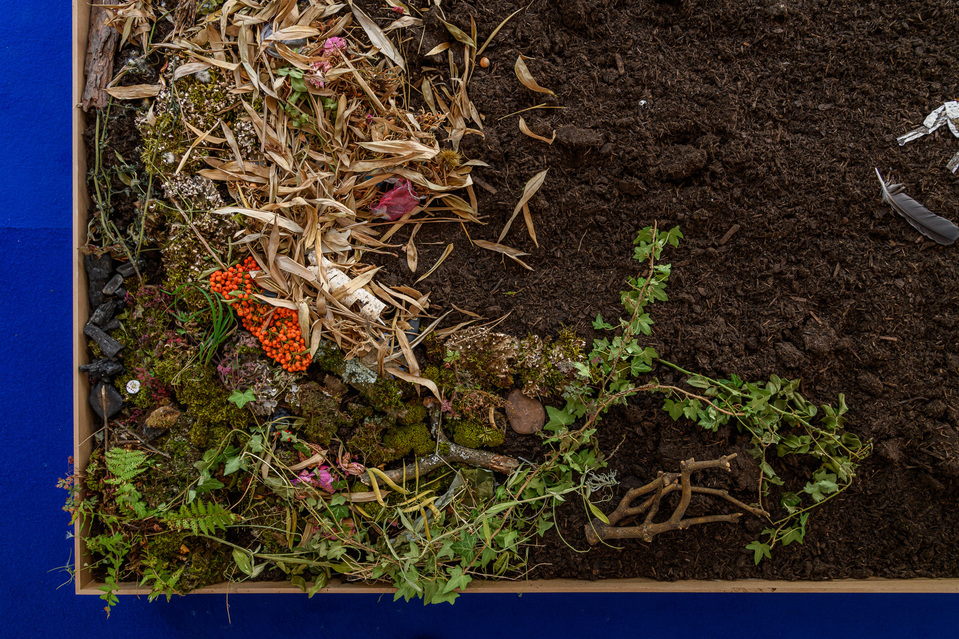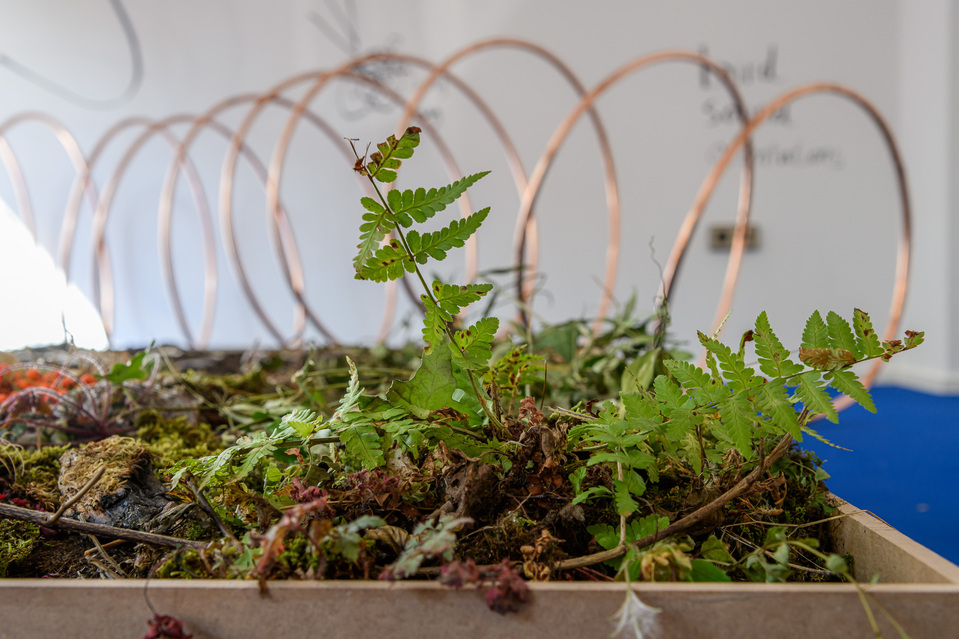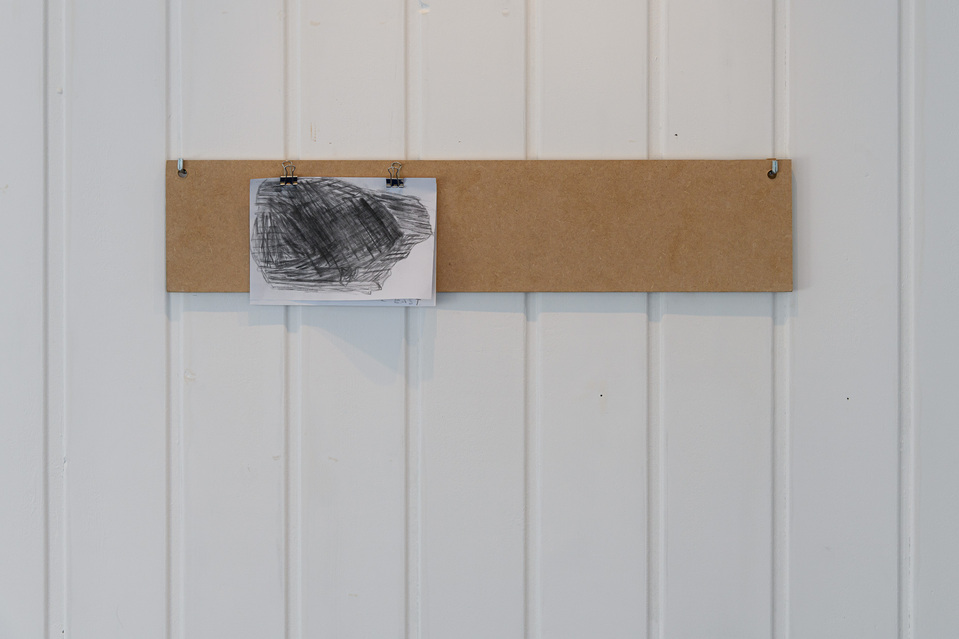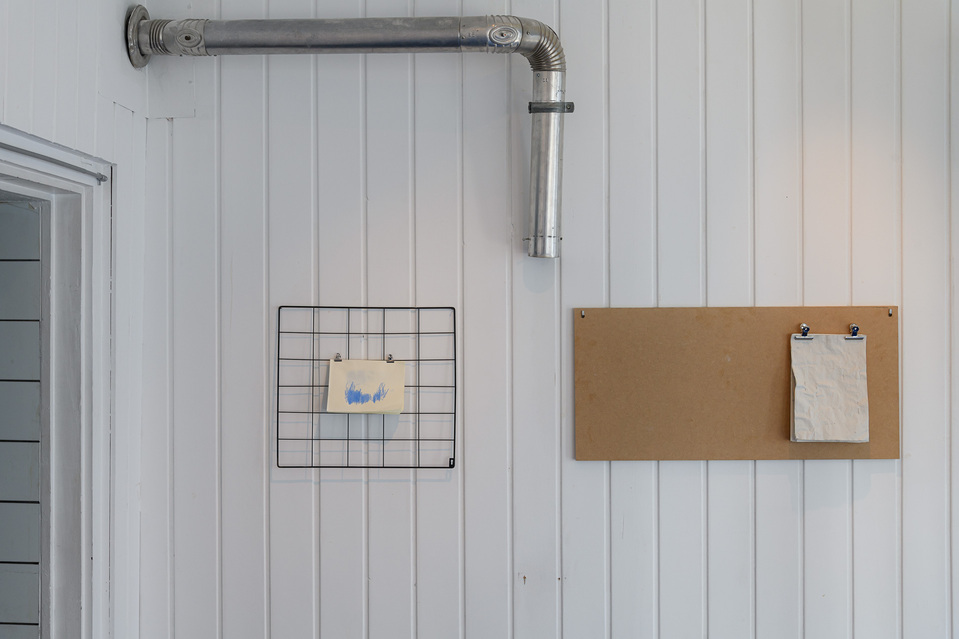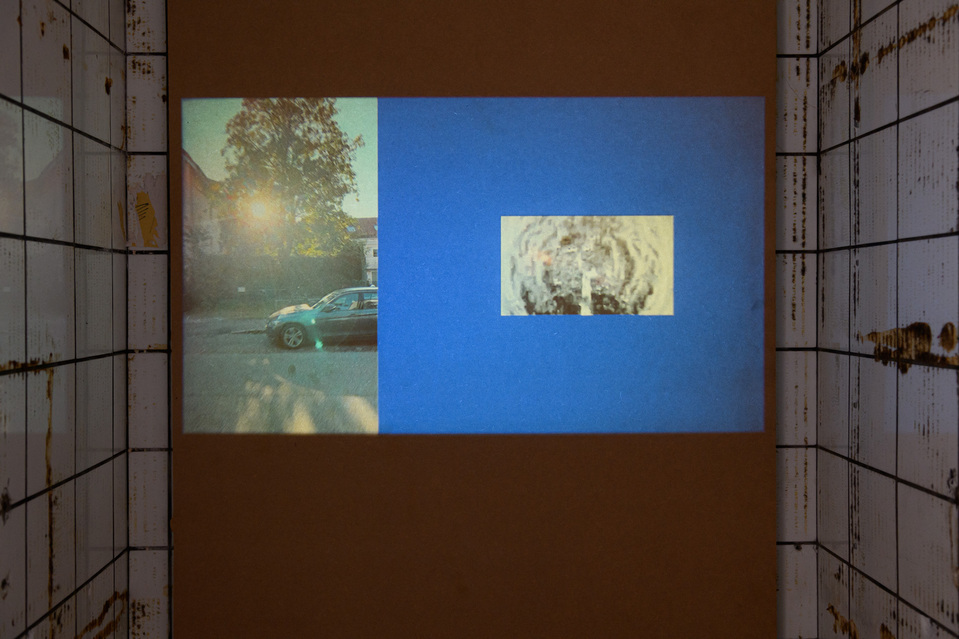 Collaborating artists' biographies
Maristella Witt studies Visual Arts in her last year in Freiburg.
She is experimenting with mixed media film making, where sculptural objects and their documentation interplay. Within the Biennale she also contributed sculptural works as part of the collaborative installation with Michel Auder by Michael Stickrod "May 68' in '78".
Sarah Lehnerer, lives and works in Berlin.
Michaela Tröscher, also known as the Icelandic pianist, was born in Freiburg im Breisgau, and lives and works in Titisee-Neustadt / Black Forest. Since 1995, the sculptural translation of the Icelandic novels Híbýli Vindanna, (Where the Wind Dwells) and the sequel Lífsíns Tré, (The Tree of Life) by Bö∂var Gu∂mundsson, a historical story of emigration into the NEW WORLD. As well as the sculptural translation of great-uncle Paul Tröscher's immigration to New York from 1914. For both working areas were individual maps developed. During the translation of the Icelandic novels, into sculpture and music, parts of Switzerland and Germany became Canada. Relating to the immigration to New York in 1914 the area between the Black Forest Institute of Art in Lenzkirch and Freiburg is transformed into Ellis Island and New York City. Since 2016, The Icelandic pianist, piano improvisations with lyrics in Icelandic, German or English. Upcoming in 2022, The Immigration, L6 municipal art gallery Freiburg, solo.
Marie Klauder, lives and works in Freiburg.
Andrea Mihaljevic studied at the Udk, formerly HdK, Berlin. In 1991 she married Stefan Hösl and had a son Leon Felix Hösl. In 1997 she moved to Freiburg. Since 2002 she has made joint artistic work with Stefan Hösl and from 2013 Mihaljevic has held a professorship for Fine Arts, Macromedia Hochschule, formerly HKDM, Freiburg. In 2018, she founded her long-term artistic project BIA (Black Forest Institute of Art) - https://blackforestinstituteofart.de/aktuelles - instagram: hoesl-mihaljevic.tumblr.com/
Rahima Gambo currently lives and works between London and Abuja, Nigeria. She came to multi-media artistic practice by working independently on long form documentary and photojournalism projects in Nigeria. Through her work she explores the moving cartographies of long-form documentary storytelling as it intersects with inner-life, psycho-spiritual-geography, socio politics, autobiography and the environment. In 2019, she founded A Walk Space, a conceptual mobile art space that explores the many cross-disciplinary intersections of the moving-image through installations, workshops, exhibitions, publications, and collaborative interventions. www.rahimagambo.com | www.instagram.com/awalkspace
GERMAN TRANSLATION by Maristella Witt
Eine Geh-Narrative, Freiburg (September, 2021)
Eine fadenartige, organische, auf zellulose basierende Mischung formt sich. Wie Mus, hat es die Konsistenz einer Mixtur aus einem Festkörper und einer Flüssigkeit. Dieses weiche Mus wird in Flüssigkeit suspendiert. Eine morgendliche Kondensation, funkelnde Tröpfchen auf einem Spinnennetz.
Zwischen uns befindet sich eine dünne zerbrechliche Barriere, eine Haut voller Löcher. Einmal stand ich kniehoch im Matsch zwischen diesen beiden Gebieten. Meine Beine durchstachen die Wasseroberfläche wie zwei Nadeln. Zwei Nadelpiekser auf der Haut des Wassers, zwei Nadelpiekser auf der Haut des Bildschirms, zwei Nadelpiekser auf der Haut der Straße.
Eine Stimme tritt unter den Strömungen hervor und treibt unsere synchronisierten Bewegungen voran. Diese unsichtbare Strömung löst Ablagerungen, die vor langer Zeit vergraben wurden, und gibt den Raum frei für eine melodische Stimme, die aus der Tiefe aufsteigt. Es ist ein altes Lied aus einem Volksmärchen. Es handelt von zwei Raben, die hoch im Himmel flogen und von dort aus Land sichteten.
Während wir dem Lied lauschen, sprießen Federn aus unseren Unterarmen, auf der Unterseite wächst weiches grünes Moos. Nur die Vögel verstehen uns wenn wir sprechen, denn unsere Sätze bilden einen neuartigen Vogelgesang. Wie kommt es nur, dass Vogellieder Hoffnung vermitteln, gleichzeitig aber auch eine zaghafte Vorsicht? Auf einem Blatt Papier erscheint dieser Gesang in Form von welligen, kurvigen Strichen, manchmal sind es Punkte, andere Male Linien. Die Gesangslinien von freien Vögeln sind lang und hell, die Gesangs Linien von eingesperrten Vögeln sind kurz und dick. Wir nennen sie 'Vogelgeräuschorientierungen', eine neue symbolische Sprache, die dazu dient, unsere Position in einer akustischen Welt bestehend ausschließlich aus Vogelrufen, zu kennzeichnen.
Federn und überwucherndes Moos auf unserem Körper. Wenn man das Moos von Nahem betrachtet, sieht man einen kleinen Schwarzwald, bewohnt von kleinen sich windenden Kreaturen, die ihre Bäuche nah am Boden tragen, mit vielen vielen Beinen und vielen vielen Augen.
Beim Umherwandern stolperte ich über eine kleine Schnalle. Sie war einsam und sie hatte ihre Funktion verloren. Von Weitem sah sie aus wie eine Schlange. Ich hob sie auf und nutzte sie als Kompass um meinen Weg nach Hause zu finden.
Jeden Morgen fällt mir einer der funkelnden Sterne über den Bäumen auf, die die Berge rund um Freiburg mit hellen Tupfern versehen. Gestern entschied ich mich dazu, ihm zu folgen. Als ich aus meiner Tür ins Freie trat, hatte sich der Himmel bereits von Dunkelblau in eine leuchtende Pfirsichfarbe verwandelt. Ich folgte der Richtung des Sterns, mittlerweile war er nicht mehr zu sehen. Die Luft war kühl und klar und fühlte sich an wie ein kühles weiches Fell. Ich ging eine Weile weiter bis mir dämmerte, dass das Gebirge vor mir weiter weg lag als gedacht. Dann hörte ich Kirchenglocken in der Nähe und entschied mich dem Geräusch zu folgen. Ihr Klang führte mich in einem Kreis zurück, zurück auf vertrautes Pflaster.
Wir folgten einer der Linien und fanden uns auf einem Friedhof wieder. Wir ließen uns nieder, in unserer Mitte die Statue einer jungen Frau. Wir legten ihr unsere Darbringungen des Tages zu Füßen. Wir stellten uns vor, es sei Heidi, die Schutzpatronin des Gehens, die sich uns endlich offenbarte, endlich verkörpert.
Gestern fühlte ich, dass wir endlich eine Spinne geworden waren. Wir fanden uns im Zentrum ihres Webwerkes wieder, das ebenfalls ein Friedhof war. LA CREATURA erwachte in den Tunneln und unterirdischen Tiefen unserer Selbst. LA CREATURA besaß längere Tentakeln als wir bis dahin vermutet hatten.
Die Natur der Spinne, ihr Werk und der Tod liegen behaglich dicht beieinander, dazu bekannten wir uns. Für die Spinne ist der Tod ein Teil des Lebens, nicht etwas, dem man sich widersetzt. Und hier saßen wir in einem Netz umgeben von Grabsteinen und letzten Ruhestätten. Womöglich sind manche Kunstwerke dazu da, vergraben zu werden, sodass sie durch ihre Zersetzung neue Werke nähren, die Wurzeln schlagen und aus dem Boden wachsen können. Vielleicht sind manche Kunstwerke dazu bestimmt, Teil der natürlichen Kreisläufe innerhalb eines Ökosystems zu sein. Wir sprachen über Jäger und ihre Rolle im Zyklus von Leben und Tod. Wie die Spinne ist auch der Jäger ein Symbol des Todes.
Als wir das Bild der Spinne im Boden vergruben, machte sich die Präsenz einer weiteren Spinne bemerkbar, Louis Bourgeois. Unsere Gedanken galten folglich den vielen KünstlerInnen, die ihr Werk heimlich anfertigten, womöglich in umstürzlerischer Handlung, womöglich in lebensbejahender Handlung. In der Erde vergraben, wo niemand sie je zu Gesicht bekommen würde.
Es fühlt sich an, als würden wir uns durch einen Tunnel bewegen, ungewiss ob unterirdisch, drinnen oder draußen. Nach fünf Tagen Umherwandern sehen wir am Ende dieser Passage ein Licht. Von hier aus leuchtet es in den Farben einer Morgendämmerung, in den Farben eines beginnenden Tages.
Es ist Morgen und das Sonnenlicht wirft lange goldene Schatten auf einen Spielplatz. Zwei Mädchen unterhalten sich ernsthaft über die Kreidemarkierungen, die sie zwischen zwei Schaukeln gemalt haben. Ihrer Arbeit ist eine Erinnerung daran, dass manche der bemerkenswertesten visuellen Gestaltungen draußen auf der Straße zu finden sind.
Was wäre, wenn wir die Straße als Atelier betrachten würden, oder das Atelier als Straße. Wie eine Spinne würden wir unsere Arbeit herstellen, unser Netz spinnen, an jedem möglichen Ort. Es ist Morgen und unser Netz glitzert auf dem Brückengeländer, den Blick gerichtet auf einen strömenden Fluss in Freiburg.
Eine Geh-Narrative, Freiburg (2021) wurde von Rahima Gambo aus den Imaginationen, Konversationen, Erfahrungen, Reflexionen, Synchronitäten der kollaborativen KünstlerInnen Marie Klauder, Maristella Witt, Sarah Lehnerer, Michaela Tröscher und Andrea Mihaljevic gewebt. Der Workshop 'Nest-works and Wander-lines' fand im DELPHI space vom 06.09.21 bis zum 10.09.21 im Rahmen der Biennale für Freiburg statt. Der Text 'Geh-Narrative' bietet den Rahmen und den Kontext dafür, wie die Kunstwerke innerhalb der Installation mitteinander zusammenhängen und ein Ganzes bilden.